An IVR is an interactive voice server. It's a "voice robot" that greets callers and suggests that they press a key on the keypad to be directed to the chosen destination. For example: "press 1 for the sales department, press 2 for the technical department".
Access the IVR menu
To access the section for creating a voice server :
Click on the apps icon
Click on "Apps"
Click on "IVR menu"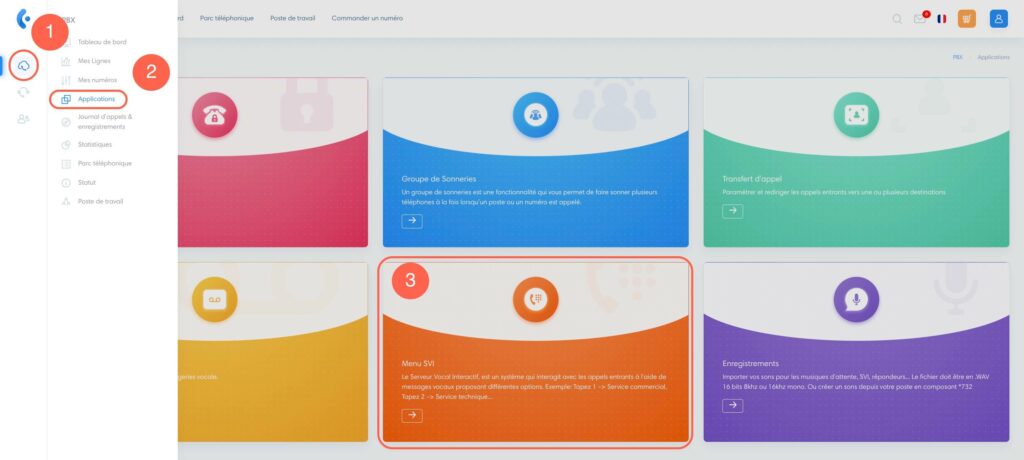 Configuring an interactive voice server
Once in the "IVR menu" section, click on "Add IVR menu".
Main configurations
General configurations
Name : add a name for the IVR
Extension : automatically generated, cannot be modified
Greet long : choose the sound of the voice server
Exit action : choose the action that will be triggered once the voice server is finished. For example, you can restart the IVR or ring an extension.

Set IVR menu keys
Option : option number key
Destination : action triggered when the person chooses this option
Order
Add : add a line to create a new menu item

Other configuration options
Timeout : shuts down IVR after X milliseconds
Ring back : select the waiting sound during transfer
: IVR display name
Enabled : choose whether or not to enable this IVR menu
Direct dial : define whether callers can dial directly to registered extensions