Create a ring group to have several extensions ring when an incoming call is received. For example, you can create a group by skill or team, such as for the sales or accounting departments.
Go to "Ring group" menu
Click on the PBX icon
Then on "Apps".
And on "Ring group".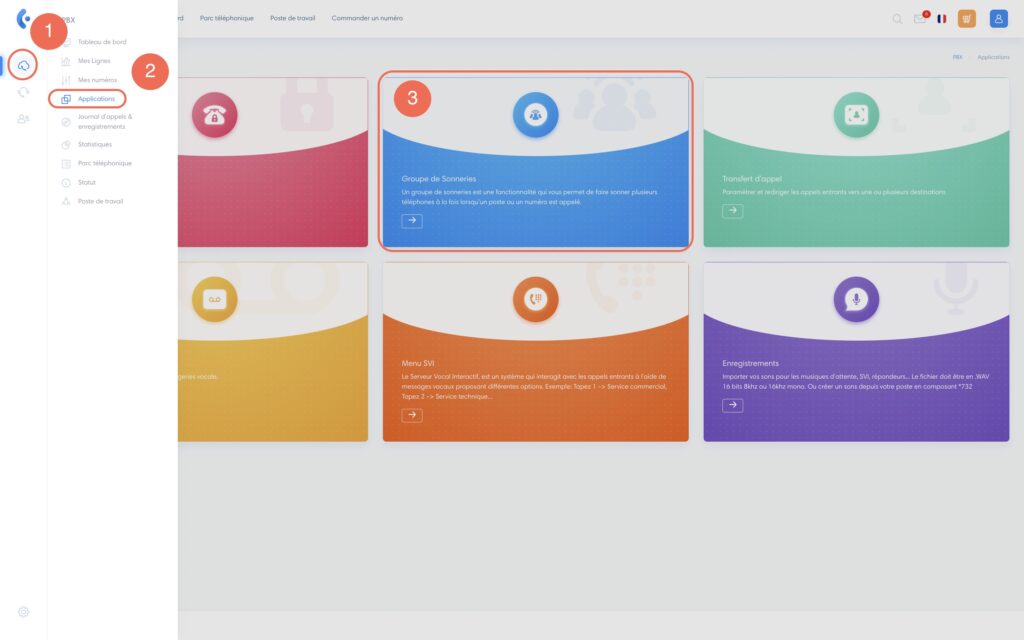 Setting up a ring group
Click on "Add new ring group".
Next, define the following fields :

Name : define the name of the ring group. We advise you to use the names of the extensions that make up the group or department name. For example, "Ring 301 and 101".
Extension : this is the internal extension associated with this group. It will ring all lines configured on the group. The number is randomly defined.
Destination : choose a line to be included in the ring group
Delay : delay after which the call will ring for this extension. This allows you to set an order for different calls
Timeout : the time this call will ring at this extension (usually set to 30 seconds)
Click on "Add" to add a line and therefore another extension to the group.
Advanced settings
You can then configure the advanced settings :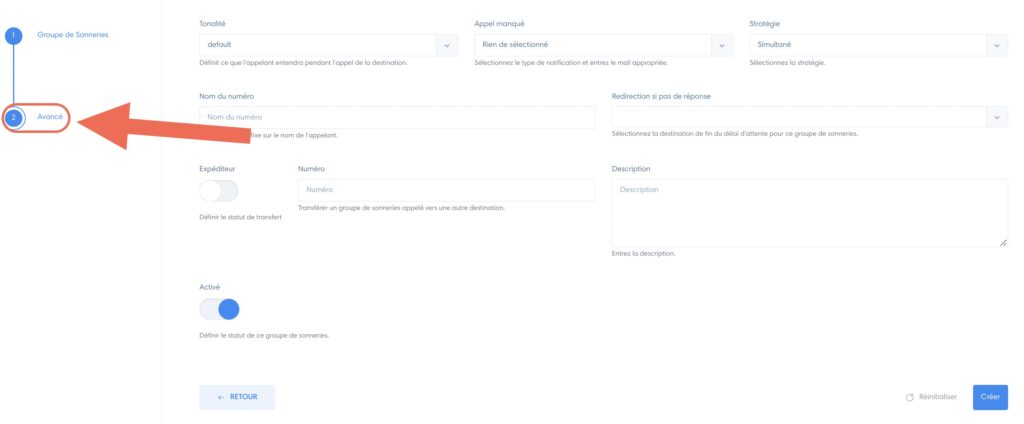 Ringback : choose the sound the caller will hear while waiting for the agents to answer. To learn how to import music, go to the dedicated tutorial by clicking here
Missed call : you can choose to receive e-mail notification if users in the group have not answered. Enter the e-mail address to which you wish to receive it
Strategy : choose the way your extensions sound

Simultaneous : call rings on all lines simultaneously (default)
Sequence : call rings on users one after the other, in order from lowest to highest internal number
Enterprise : call rings on all lines, bypassing busy destinations
Rollover : call rings in sequence, passing busy lines
Random : like the "Sequence" option, but does not follow a predefined order

CID name prefix : enter a prefix to identify the number
: choose an action if no one answers. For example, you can choose a redirection or voicemail.
Number : transfer a ring group to another destination
Enabled : set the status of this ring group