To access it, click on "Agent Panel" in the menu bar.
Understanding Agent Panel
The Agent Panel is the tool you use to make calls.
If the contact does not have a record in CRM, the Agent Panel will be displayed as in the image below during calls :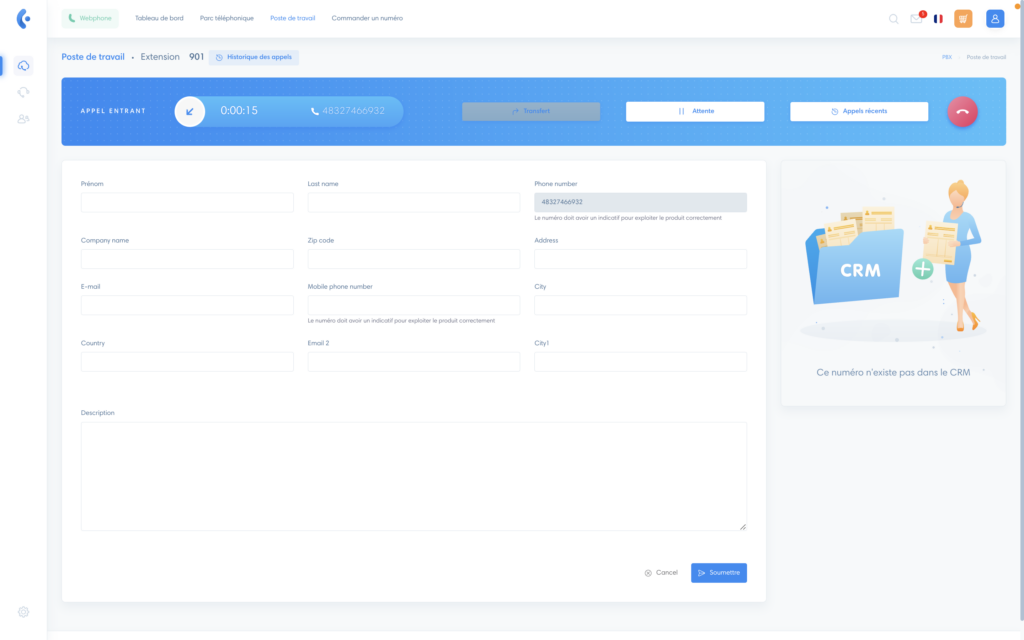 If the contact exists in CRM, his or her file is display to Agent Panel (see next section).
Use Agent Panel
The Agent Panel comprises 4 sections: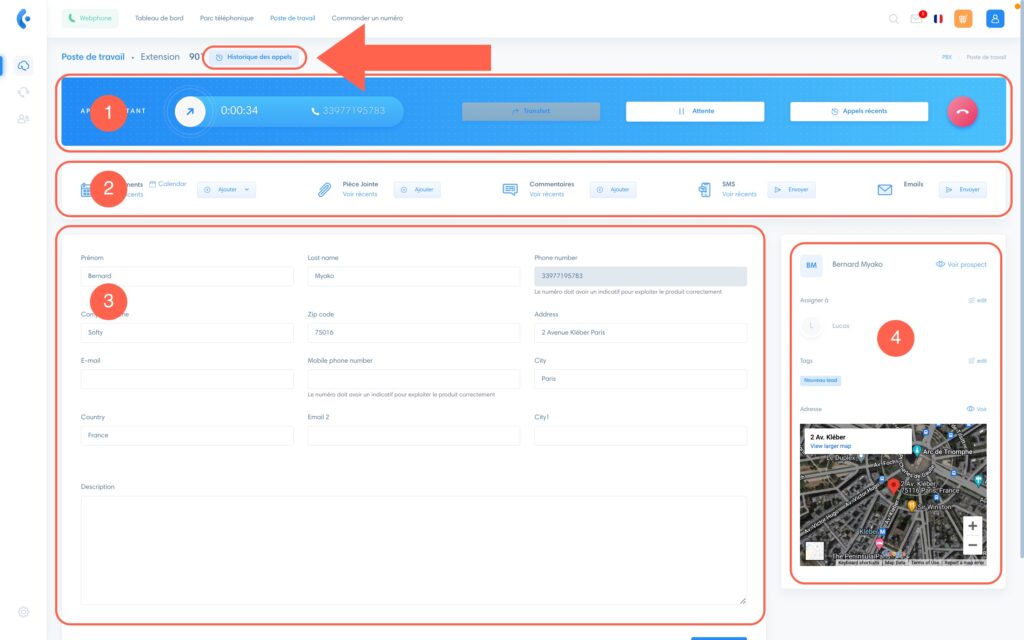 The call keypad
CRM actions
Contact informations
Contact file
In the next sections of this article, we'll explain each of these features in detail.
Note By clicking on the "Call history" button (see arrow) you can display a list of all calls made and received on this line.
The call keypad
Transfer : transfer the call to other lines in your domain. Go to this article to learn how to set up transfers.
Hold : put the call on hold
Recent calls : find the contact's call history
CRM actions
(1) Events
Click on "Add" to add an event
Click on "Calendar" to go to the calendar interface
Click on "Recent events" to see the latest events for this contact.
(2) Attachment
Click on "Add" to attach files to the contact's file.
Click on "View recent" to see the attachments attached to this contact's file.
(3) Comments : add and retrieve comments for this contact
(4) SMS : send and retrieve SMS messages for this contact
(5) Emails : send an email
Contact informations
This section allows you to retrieve information about the contact.
You can add and modify information in this section during or after the call.
Note You cannot change the phone number from Agent Panel. If you wish to change it, go to the contact's file in the CRM section.
The contact file
View contact : click on "View contact" to go to the contact's CRM file.
Assign to : you can assign this contact to an user. Simply click on "edit" and select a user.
Tags : you can add, edit and delete tags that are associated with the contact.
Address : you can view the contact's address in Google Maps.