The Kavkom Click-to-Call extension lets you dial phone numbers with a single click. All phone numbers displayed on your web pages become clickable to call without having to dial them manually!
This feature is available on all sites, such as online CRMs, management platforms, online directories…
Install the Click-to-Call Firefox extension
To install the extension, click here. Once the web page is open, click on "Add to Firefox", then on "Add" in the top-right pop-up window.
Open extension
Click on the extensions icon and then on Kavkom Click2Call to open the connection window.

Login
You can log in to your Kavkom account with your username and password.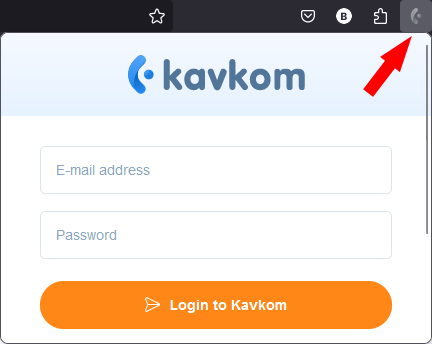 Once installed and pinned, the extension is accessible in the top right-hand corner of the browser. You can access the various options, and activate or deactivate click-to-call.
Use the extension
Click on the icons next to the phone numbers or by selecting the number, then in the right-click context menu, select "Call".

Note: to use it, you need to be connected to your Kavkom Phone or WebPhone, and have an IP phone or softphone activated.
If the "Click2Call automatic" option is activated in the Kavkom Phone and WebPhone applications, dialing is immediate. Otherwise, you receive a call to pick up to start dialing.
Now you know how to integrate Kavkom into Firefox for one-click dialing!