Une fois que vous avez téléchargé et installé l'application Kavkom sur iOS, l'étape suivante consiste à vous assurer que vos paramètres et autorisations sont correctement configurés pour utiliser Kavkom dans les meilleures conditions.
Configure the Kavkom app on iOS
Kavkom access authorization
Log in with your Kavkom account login details and choose your display language.
You'll then see permissions windows asking for authorizations to record audio content and make and manage phone calls in order to configure your application.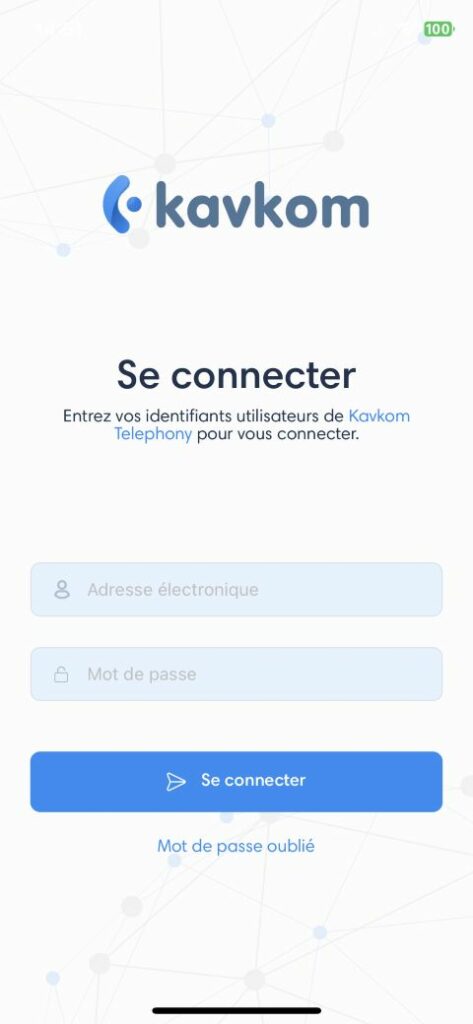 Application settings
My account
The "My account" menu in the Kavkom application allows you to view your line extension, change the application language and change your Kavkom user account password.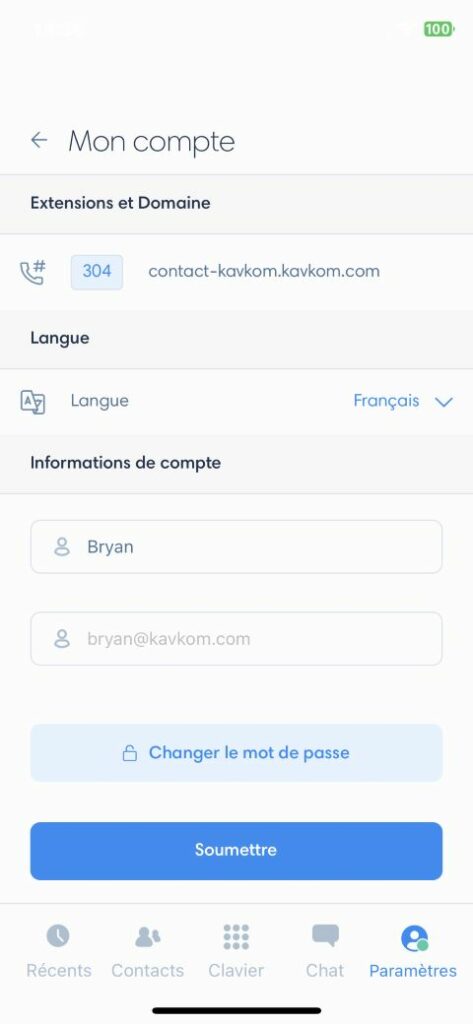 Sound and Devices
In this menu, you can change the ringtone played during sound notifications.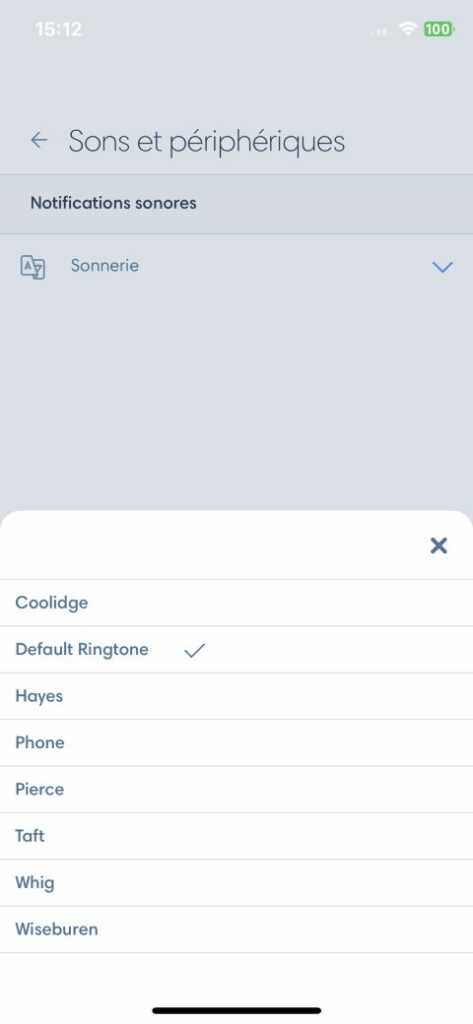 Call preferences
Auto call reject lets you redirect incoming calls when you're already on a call.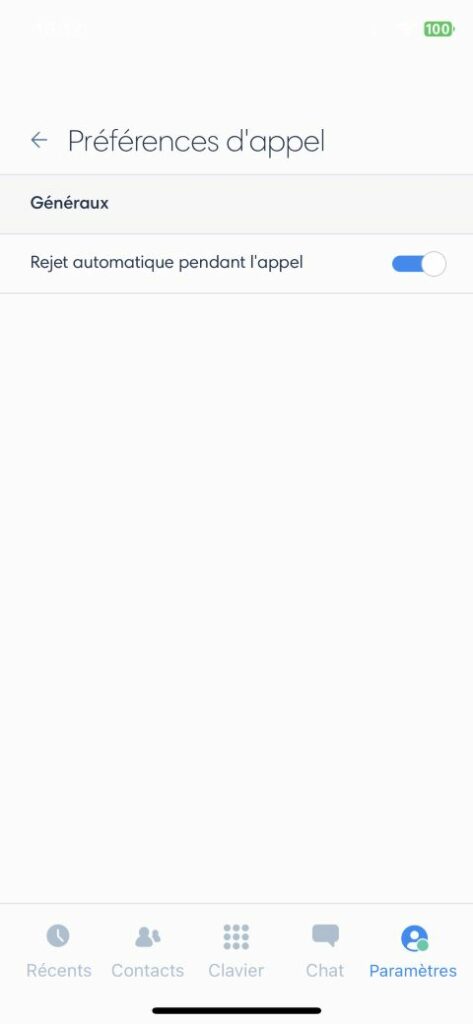 Integration
Search for prospects during call : when an integration is installed, displays contact information when receiving or making calls.
Search leads in Kavkom CRM exclusively : displays contact information based on the Kavkom CRM database only, even if another integration is installed.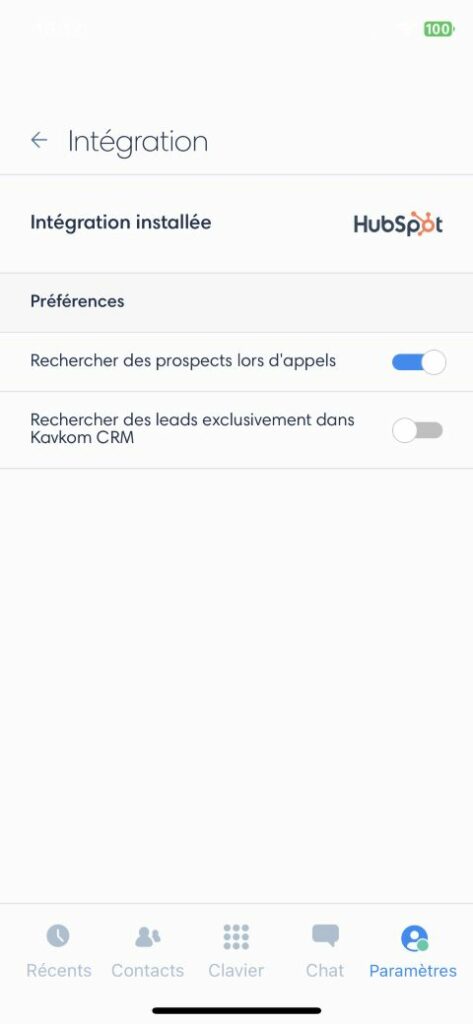 Statut
In the "Settings" menu, you can deactivate call reception by setting your status to "Unavailable".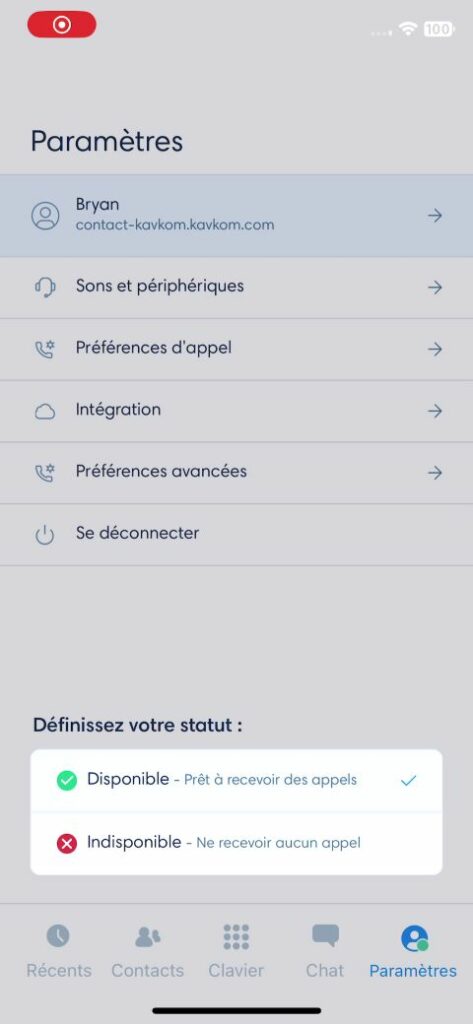 How to use the Kavkom app on iOS
Navigating the Kavkom app on iOS is easy. When you first log in to the app, your default screen is the dial pad where you can make outgoing calls.
Above the numeric keypad, you can toggle between your different numbers to choose the one you wish to display to your callers for future calls.
The "enter a number" box lets you select the country to which you wish to make a call, without having to enter the area code. You can type in a number using the numeric keypad, or paste it from the clipboard.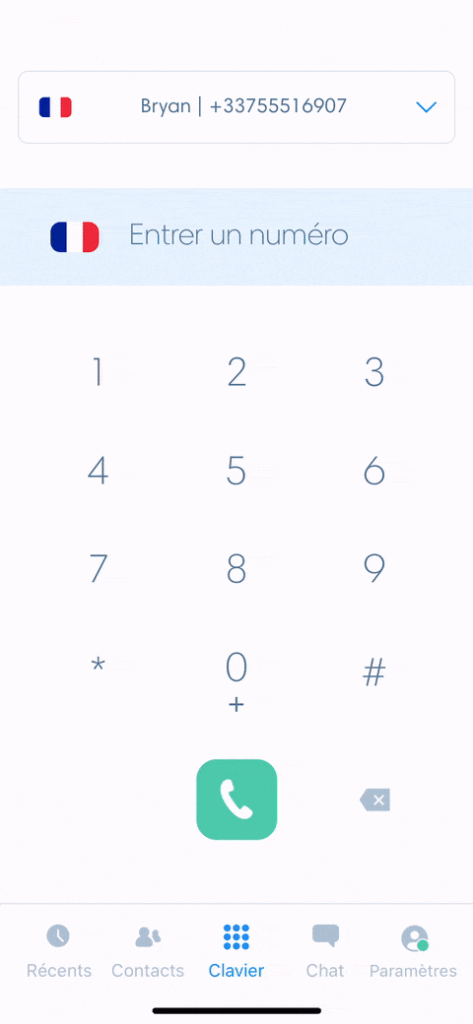 In-call view
During a call, here are the keys and their corresponding functions:
Silence: mute microphone
Keyboard: display numeric keypad
Add: invite a participant
Transfer: transfer the call to a teammate or an external number
On hold: put the correspondent on hold
Audio: Activate or deactivate the loudspeaker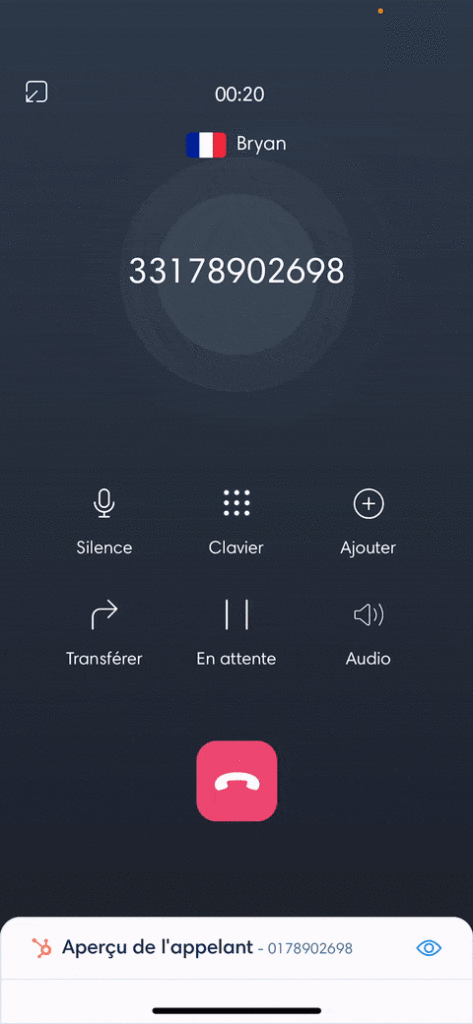 Identification du correspondant
By activating the contact search with an integration or the Kavkom CRM, the contact's record appears with his or her information on an incoming or outgoing call. You can then either quickly access the corresponding record in your CRM with a single click, or create a contact there.
Transfer a call
Transférez vos appels directement à un collaborateur interne ou sur une ligne externe. Appuyez sur "Transférer", sélectionner ou utilisez la barre de recherche "Entrer un contact" pour trouver le collaborateur ou saisissez y le numéro de téléphone de destination.
Then tap on :
"Transfer now" to make a direct transfer
"Call first" to talk to the transfer recipient before confirming the transfer.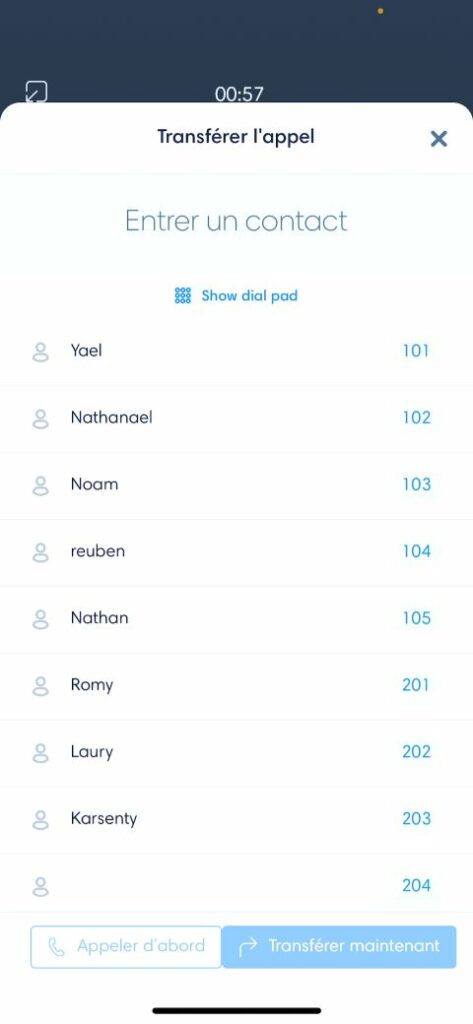 Numeric keypad
To display the keypad during a call to perform an action (e.g. to dial a number in an IVR menu, or when you need to enter a pin code), press the "Keypad" key. Tap on the cross at top right to close it.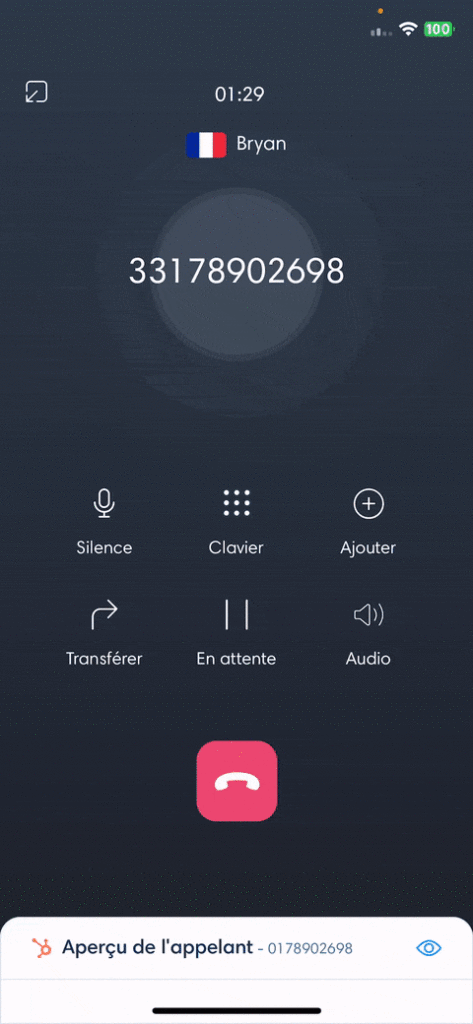 Invite to participate in the call
Pour inviter un troisième correspondant à l'appel téléphonique, tapez sur "Ajouter", puis sélectionnez le collaborateur ou entrer le numéro de téléphone.
Put on hold
Press hold to put your callers on hold with music. Press again to resume the call.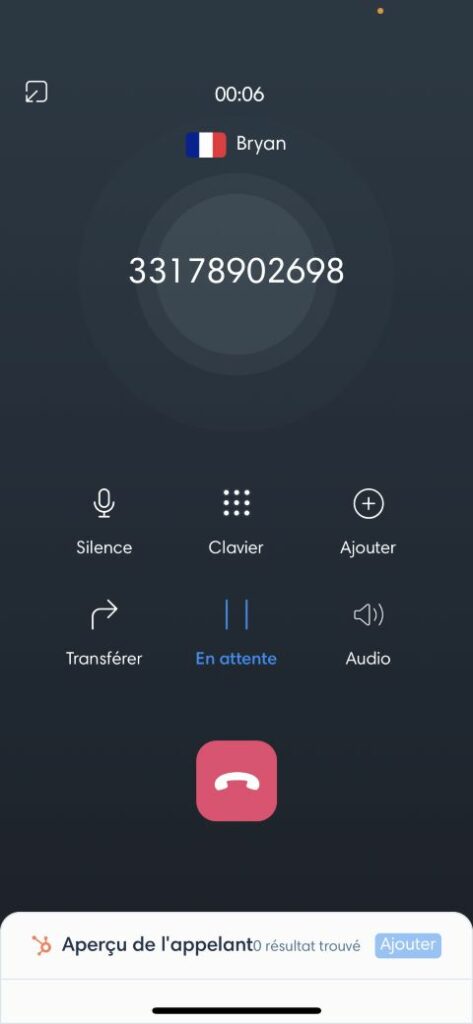 Minimize call window
By tapping on the icon at the top left, you minimize the current call window, allowing you to navigate the application menus while still on the line. Tap on the green bar to return to the call window.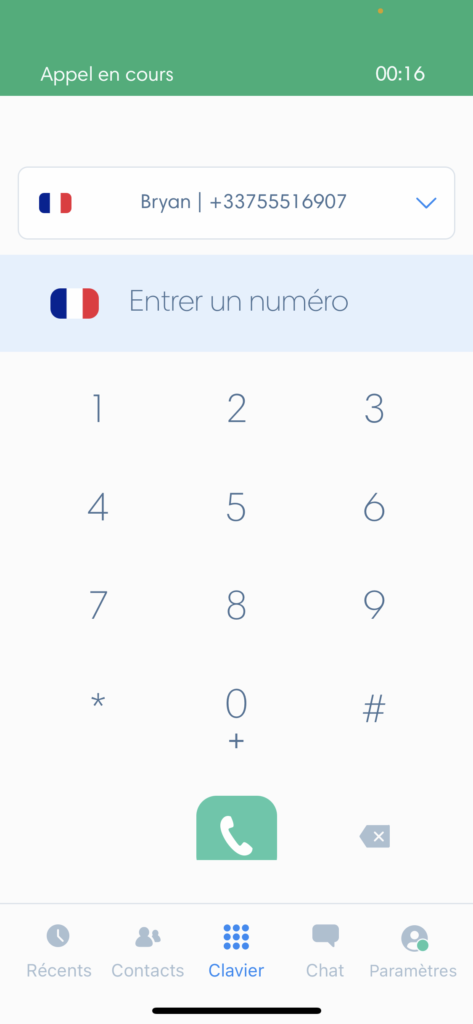 Call history
By tapping on "recent", view your call history from any of your numbers. You can view outgoing and incoming calls, as well as voice messages. In addition to the phone number, the contact name is displayed when an integration is activated and the number corresponds to a contact in your CRM.
Retrouver des appels
Pour retrouver facilement des appels, vous pouvez faire une recherche ou utiliser des filtres en tapant sur "Filtres" en haut à gauche et en sélectionnant la direction, une plage de date, un collaborateur ou un numéros à l'affichage.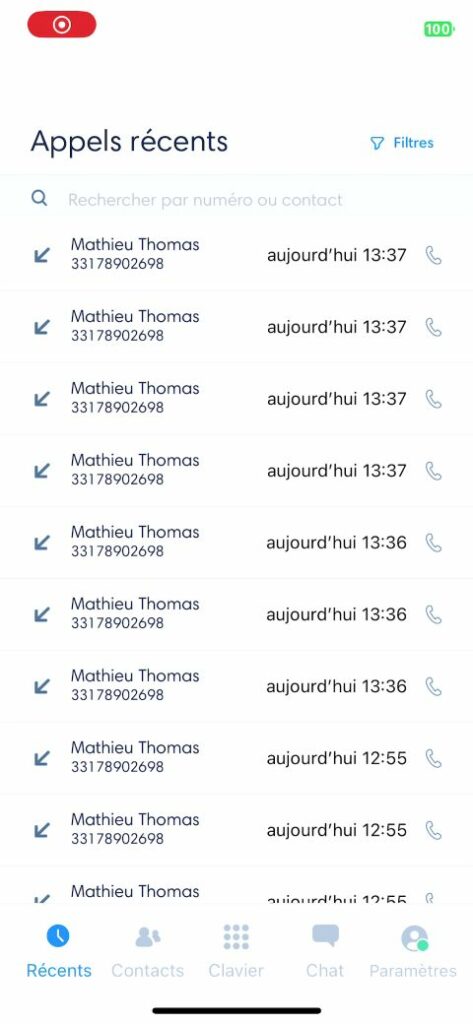 Call details
Tapping on a recent call takes you to the call details, the recording, the contact record if the number is stored in your CRM, and the call history for that number.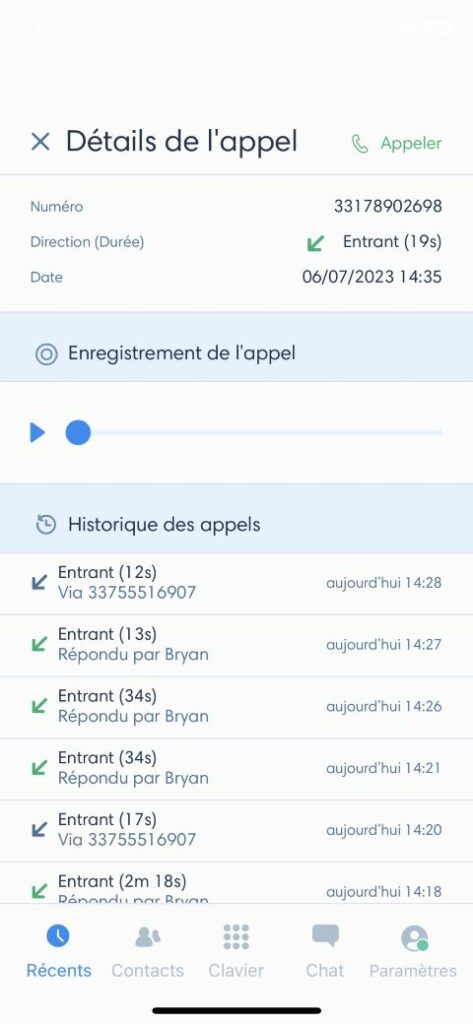 Contacts
Find the list of your teammates to contact them quickly.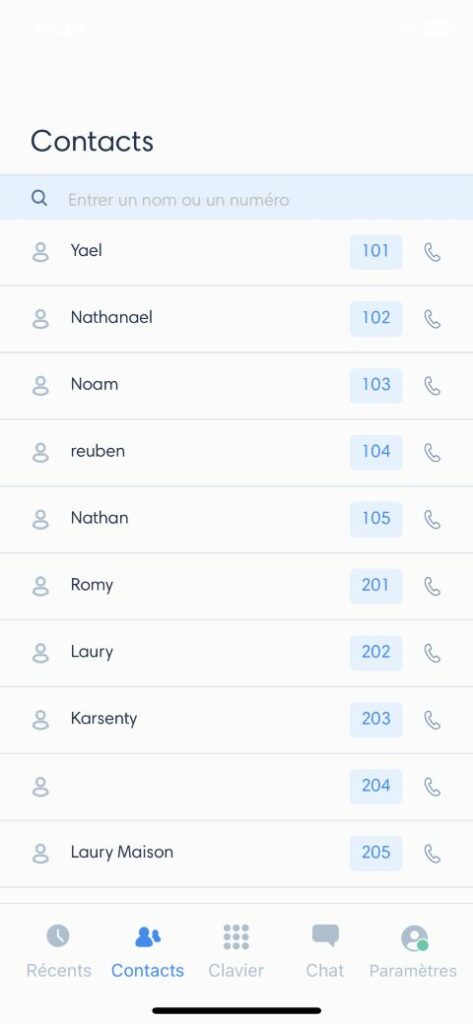 Now you know how to set up and use all the features of the Kavkom Phone application on iOS!
If you have any further questions about setting up and using the Kavkom Phone application for iOS, please do not hesitate to contact our technical support.